Are you searching for the perfect destination wedding venue that combines luxury, romance, and unparalleled beauty? 
Look no further than Secrets Moxché, the newest jewel in Mexico's crown of adults-only, all-inclusive resorts. 
Situated amidst the awe-inspiring landscapes and pristine beaches of Playa Del Carmen, Mexico, Secrets Moxche offers an idyllic setting to host your dream wedding celebration.
Our team at Vacationeeze loves a new resort to work with for beautiful tropical destination weddings in Mexico. 
Here we'll share everything we've learned about this new dreamy destination and why we think it could be an excellent option for your destination wedding in Mexico.
Secrets Moxché Hotel Overview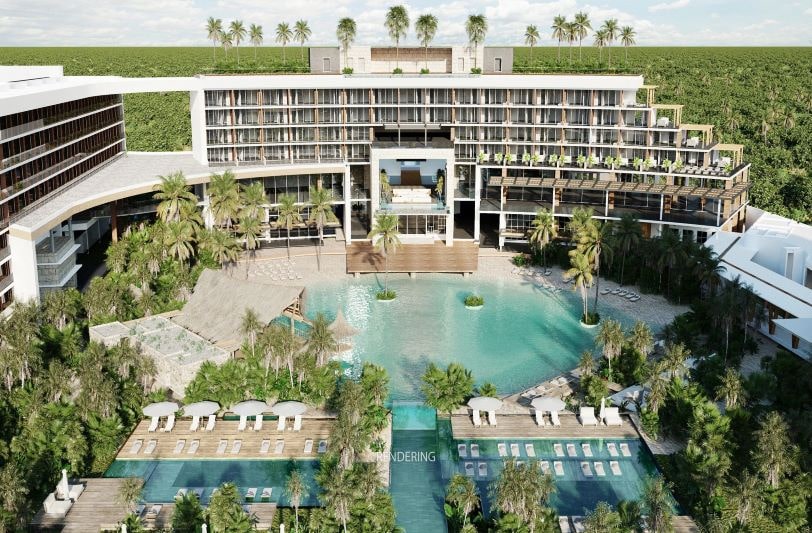 Guests staying at Secrets Moxché Playa Del Carmen will enjoy luxury at every turn as they explore the pristine white sandy beach, eat delicious cuisine from around the world, splash in 7 heated swimming pools, and experience some top-class amenities and entertainment. 
There are 485 lavish suites, each elegantly designed with a private balcony or terrace, hot tub, and a 24-hour concierge service. Some suites have a tropical view, while others look out on the blue Caribbean ocean.
By day or night, there is always lots to do at Secrets Moxche – if you want to get off the lounge chair, that is! 
There's windsurfing, beach volleyball, and excellent snorkeling options in the three man-made cenotes on site. 
Golf lovers will be happy as an 18-hole golf course is located nearby. And, of course, Secrets Moxche will give you and your guests a chance to relax and be pampered with a world-class Spa – why not treat yourself to a massage?
In the evenings, you'll find an open-air theater with fantastic shows and live music performances throughout the resort.
Adventurous guests can also explore the nearby Riviera Maya and Yucatan regions, with ancient Mayan ruins to discover.
When did Secrets Moxché open? 
Secrets Moxché Playa Del Carmen opened its doors in April 2022, making it the newest Secrets resort in the Caribbean.
Where is Secrets Moxché located?
Secrets Moxché Playa Del Carmen is located in the heart of the Riviera Maya, just a 10-minute drive from Playa del Carmen's popular Quinta Avenida (Fifth Avenue). 
How far is Secrets Moxche from Cancun airport?
Secrets Moxché is approximately 23km south of Cancun airport. The transfer will take about 45 minutes.
For destination weddings, we find this is right on the cusp of feeling "far" for your guests, but we think the pros outweigh the cons, as outlined below. 
Is Secrets Moxché adults only?
Yes. All Secrets resorts are adults only, meaning you can be assured your luxurious vacation will be uninterrupted by kids! 
The resort is not, however, for couples only, so singles, groups of friends, and families with adult children are all welcome.
How is the dining at Secrets Moxché?
You will be spoiled for choice at this resort, with delicious gourmet cuisine options offering enticing flavors and gorgeous settings. 
There are 11 unique dining selections – 7 à la carte restaurants (two of which are on the beach), one buffet, a grill and a café, and multiple bars:
Allora

 – Delicious traditional Italian cuisine

Dos Almas

 – a Mexican culinary experience including a taco bar.

Bamboo

 – Southeast Asian delicacies and an alternative plant-based menu.

Barefoot Gril

l – casual light lunch option on the beach.

Bisou

 – romantic dining of elegant French cuisine.

Ember

 – a Steakhouse with an open-fire grill and fine cuts of meat.

Market Café

 – local and international food choices.

Seasoul

 – intimate romance with a seafood menu

Suki

 – Pan-Asian cuisine, including a fresh sushi bar.

Coco Café

 – daytime coffee and snacks, both indoor and outdoor 

Observatory Preferred Rooftop

 – Preferred Club restaurant with gorgeous views 
What's the difference between Secrets Moxché and Secrets Impressions Moxché?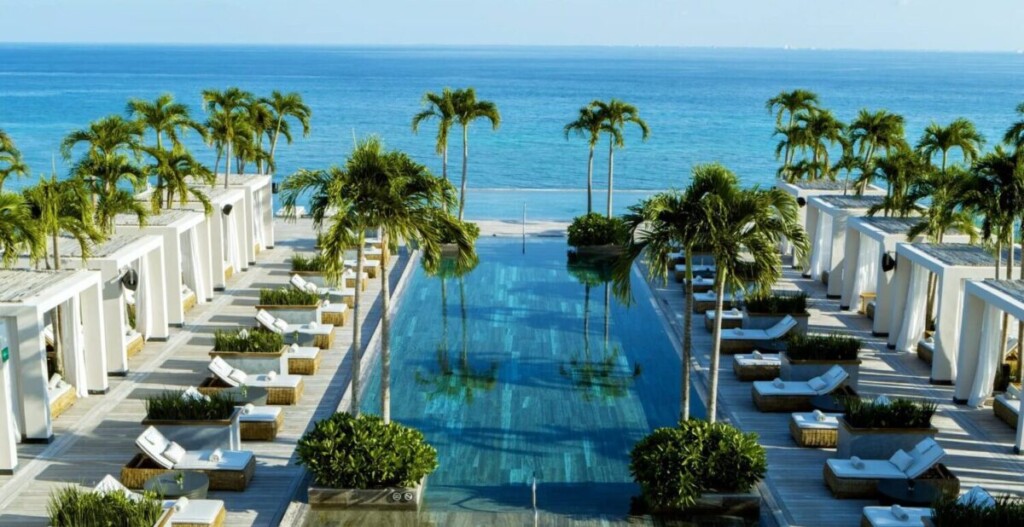 Secrets Impression Moxché is the smaller sister of Secrets Moxche, just next door.
Secrets Impression Moxché introduces the exquisite and Impression concept to the Secrets brand. Secrets Impression Moxché includes lavish, upscale suites and more extravagant beachfront villas.
Guests staying at Secrets Impression Moxché have access to both adjoining properties.
Ceremony and reception venues at Secrets Moxche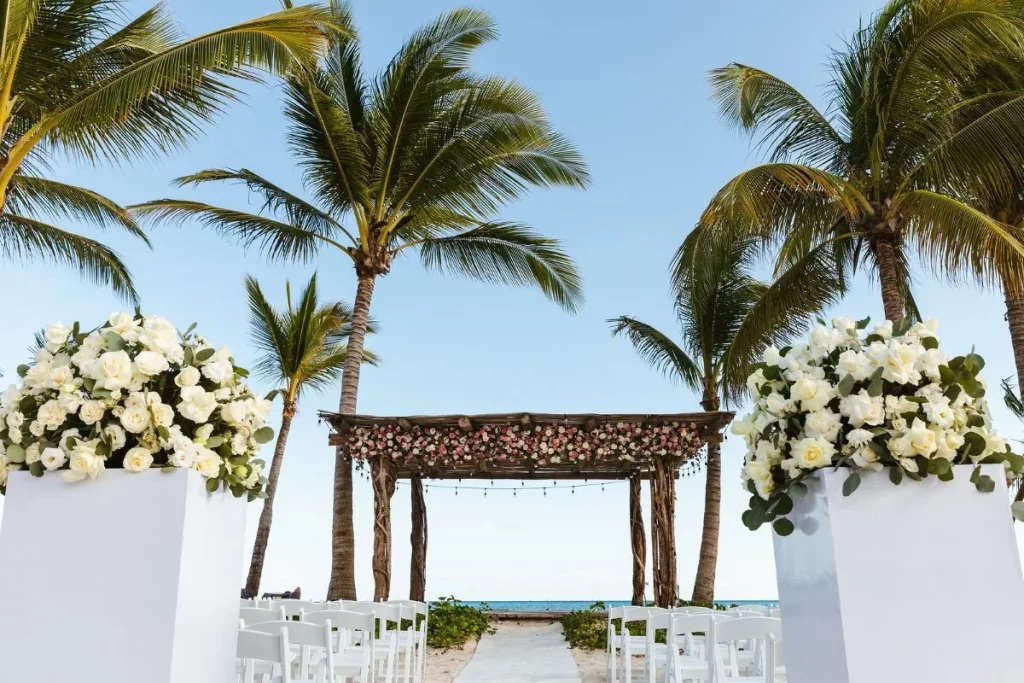 There are some stunning location options for your wedding ceremony and your reception at Secrets Moxche – each offering a unique and beautiful backdrop under the palm trees as you say 'I do.'
For smaller weddings, you have: 
Sky Wedding Gazebo overlooking the ocean | 60 guests

Sky Wedding Salon | 60 guests

Mystic Area by Cenote on the Beach | 50 guests
And for larger groups, you could choose:
Beach | 100+ guests

Pool Deck | 100 guests
Check out our video of Secrets Moxché wedding locations here to better understand what your wedding could look like at the resort.
Wedding packages at Secrets Moxché
The average cost of a destination wedding is about $15,000, but it depends on factors such as how many guests, what type of decor you want, and how many events you decide to host. 
Secrets Moxché offers several all-inclusive wedding packages, meaning you can find the right package for you and your specific number of guests. 
Here is the top-line overview of what is available to you:
Weddings in Paradise – up to 10 guests, starting at $999

Secrets Ultimate – 30 guests, starting at $3,799

Secrets of Love – 30 guests, starting at $3,399

Beyond Memorable – 50-79 guests, starting at $7,500

Dulha & Dulhan Indian wedding – 5-event, for 50 guests, starting at $7,500

Shaadi Indian wedding – 6 events for 75 guests, starting at $25,999

Elope in luxury – for just the 2 of you, starting at $1,100
And we thought it might be helpful to delve a little deeper into what these packages include:
Secrets Ultimate wedding package
The Secrets Ultimate wedding package is a fantastic option for up to 30 guests. The Package is generous and includes the following:
Your ceremony with the service of a judge or minister 

Semi-private rehearsal dinner (for ten max)

Preparation and ironing of the couple's wedding day attire 

Complimentary room for one member of the wedding couple the night before 

Bouquet(s) and/or boutonniere(s) for wedding couple 

Two boutonnieres and two corsages for the wedding party 

Sound system with speaker and microphones

Hairstyling and makeup application for one member of the wedding couple 

Ceremony décor (30 chairs with white covers, ceremonial table, and aisle runner) 

Wedding cake and sparkling wine 

Private cocktail hour with hors d'oeuvres

Private dinner reception 

One natural floral centerpiece for the sweetheart table 

One natural floral centerpiece for a ceremonial table 

Live music (one set during cocktail hour) 

Special turndown service night of the wedding 

15% off spa treatments 

Newlywed Package including extras like Breakfast in bed with mimosas 

Late checkout for the couple 

Photographer will supply 50 full-color photos and a wedding album 

Videographer will provide a 30-minute video of the ceremony 

Choice of one couples spa treatment 
One of the best wedding packages is the Beyond Memorable wedding package, which is slightly more expensive but includes a lot more for up to 100 guests.
Pros and Cons of Secrets Moxche weddings
Let's start with the Pro's… 
First, Secrets Moxché is a stunning and modern new beach destination overlooking the ocean, which won't fail to capture your hearts for your wedding celebration in Mexico. 
You will benefit from an on-site wedding coordinator who will assist you with every beautiful detail to customize your wedding vision – whether this is boho beach or contemporary chic.
The packages are flexible, and you can easily add elements to make your tropical wedding dreams come true! For example, you'll find multiple options for both your plated menus and your cocktail party, not just given one set menu.
You and your partner will receive free anniversary nights in the future, which is a lovely touch – for example, if you stay a minimum of five nights over your first-anniversary date, you will receive two additional nights free.
The Cons – well, we can't think of many, to be honest. The only major one is if you or any of your guests have children that you would want to be included in your wedding. As the resort is for adults only, bringing them in for your big day is impossible. However, if your guests are happy to leave them behind so they can indulge in adult-only relaxation, you're a winner here!
If you want to hear directly from one of the on-site wedding coordination at Secrets Moxche, you can watch our video here.
Resorts similar to Secrets Moxché
You'll find several other resorts in Mexico with a similar offering to Secrets Moxché Playa Del Carmen, and it's worth checking them out to see the various options:
Recap: Secrets Moxche Resort Review
We visited Secrets Moxché when it opened and instantly knew it'd make for one of Mexico's top destination wedding resorts. 
With the incredible array of wedding packages and unique locations for you to choose from for your destination wedding, Secrets Moxché will make for a beautiful venue and a terrific choice for couples looking for an adults-only resort. 
We'd love to hear from you if you have any questions about this resort. 
Need help planning? 
Our experienced wedding planners at Destination Weddings by Vacationeeze are with you every step of the way.
With decades of experience planning hundreds of weddings, our team understands what couples are looking for and how to navigate working with the resorts. 
Our dedicated team will work with all your friends and family so you can focus on planning your dream wedding.
Ready to start planning your big day?
Call us at 215-454-2070 or get in touch with us here. 
Related Posts