Yay! You've decided to plan a destination wedding! 
You're probably excited to share the news with family and friends (who wouldn't be!)
While destination weddings offer relaxation and adventure, they also require a lot of organization. 
That's where save the dates come in. 
Save the Dates provide guests with the information they need to block out their calendar. 
If you're getting hitched abroad, be sure to send out save-the-dates as soon as possible so your friends and family can start arranging things like flights, accommodations and time off from work. 
We've rounded up everything you need to know about creating a destination wedding save the date. 
We've also included some designs we love to help inspire you! 
Do you need to send a save-the-date for a destination wedding?
Many people wonder if they need to send a save-the-date for a destination wedding. 
The answer is: Yes! While save-the-dates are helpful for any celebration, they are particularly important for a destination wedding. 
After all, your guests will be traveling hundreds – or even thousands – of miles and need to book flights, accommodations, and time off work. 
The more time you provide your guests, the more likely they will attend. 
When should you send save-the-dates?
Another common question we get from couples is when should you send save the dates? 
For a standard wedding, save-the-dates usually go out around twelve weeks in advance. 
Save the dates should go out at least six months before a destination wedding. 
As soon as you have booked the venue and created your guest list, it's time to send out your save-the-dates. 
What information to include on your save-the-date
Contrary to their name, save-the-dates should include more than just a date.
To ensure their attendance, offer your guests as many details as possible.
You can include a basic timeline of the event, including all pre and post-wedding celebrations. 
The timeline may include your welcome party, rehearsal dinner, brunch, and any group activities. 
The more information your guests have, the easier to plan their trip.
Save-the-dates can also include a link to your wedding website or RSVP deadlines if you want to get an idea of numbers. 
At the end of the day, the most important things to include are your names, the destination, key dates, and a photo! 
What not to include on your save-the-date?
While you want to give your guests enough information, there are a few things to leave out of your save-the-dates. 
You can avoid things like menu choices, asking for dietary requirements, and song requests. 
This can all go into your invitation closer to the time of the event.
The balance is to avoid overwhelming your guests. 
They need just enough information to help them plan their trip. 
A destination wedding save-the-date should be simple and straight to the point. 
You'll also want to leave out any gift registry info for the invitation.
The goal of your Save the Date is to get your guests to book their flights and accommodation. 
How to word your save-the-date?
A save-the-date should be fun, friendly, and informative. 
A destination wedding save-the-date also needs to be easy to read so that your guests remember the key dates. 
Try to avoid 'pressure' wording and keep the tone light and casual. 
Below is a list of some save-the-date examples that we love! 
Boarding pass save the date
There's nothing better than inviting guests to a destination wedding with a boarding pass save-the-date. 
Invite your guests on an adventure with these vintage style cards, designed by Aesthetic Paperie. 
Personalize them with your names, location, and a photo!
Floral calendar save-the-date magnet
Ensure that your guests will remember your wedding with this floral magnetic save-the-date. 
Designed by KF Wedding Designs, these calendar magnets stick on the fridge so everyone can see. 
They come with a lovely floral design made with real eucalyptus twine. 
Choose between a natural or oak design, complete with an envelope and thank you sticker.
Passport wedding invitation
Putting the fun into save-the-dates, this option is an excellent choice for any destination wedding. 
Also great for invitations, it has plenty of space for photos and important details. 
Brought to you by Lucky Lady Paper, they come in a gold foil and Blush Watercolour Compass design. 
Magnetic Tag Calendar
Another magnetic save-the-date, these rustic-style calendars are an excellent choice for boho and vintage-style weddings. 
Treat your guests with their own fridge magnet so that they have something to remember. 
The fonts, designs, and phrases are fully customizable for an extra personal touch. 
Wedding invitation travel templates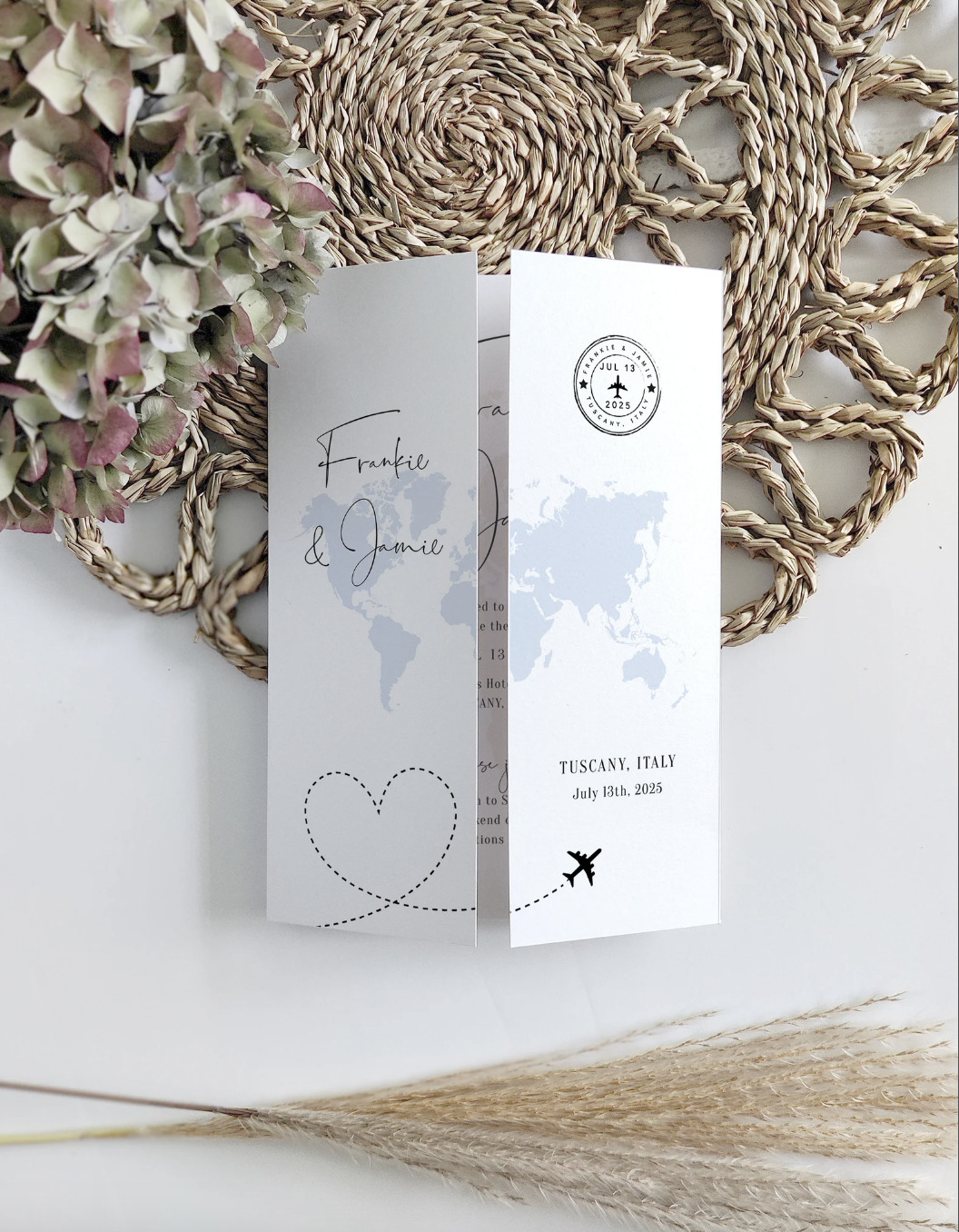 If you want to get crafty, these customizable save-the-date templates from ConnieAndJoan are a lovely choice. 
You just need to edit the template, download, and print! The templates are designed for a gatefold-style invitation with subtle travel-inspired influences. 
Palm Tree Save the date
These tropical save-the-dates are a popular choice among couples. 
Offering ease and convenience, these downloadable templates are the perfect save-the-date choice if time is ticking. 
It's a simple design with a classic elegance ideal for destination weddings.
On the Horizon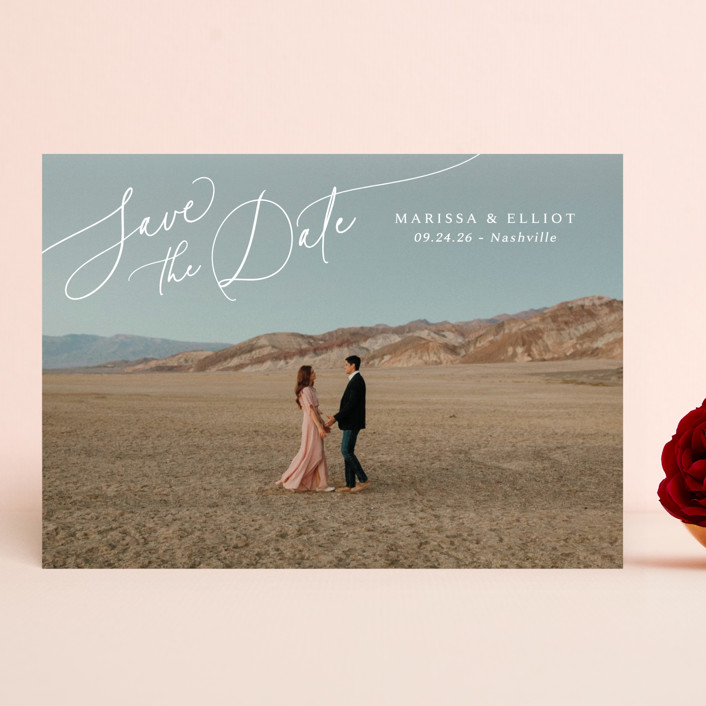 Show off your engagement photos with this beautiful save-the-date by Kaydi Bishop. 
This design can be customized to meet your requirements and is printed on high-quality paper. 
To enhance the travel theme, you can even choose a postcard style. 
Vine Wrap Foil Pressed Save-the-Date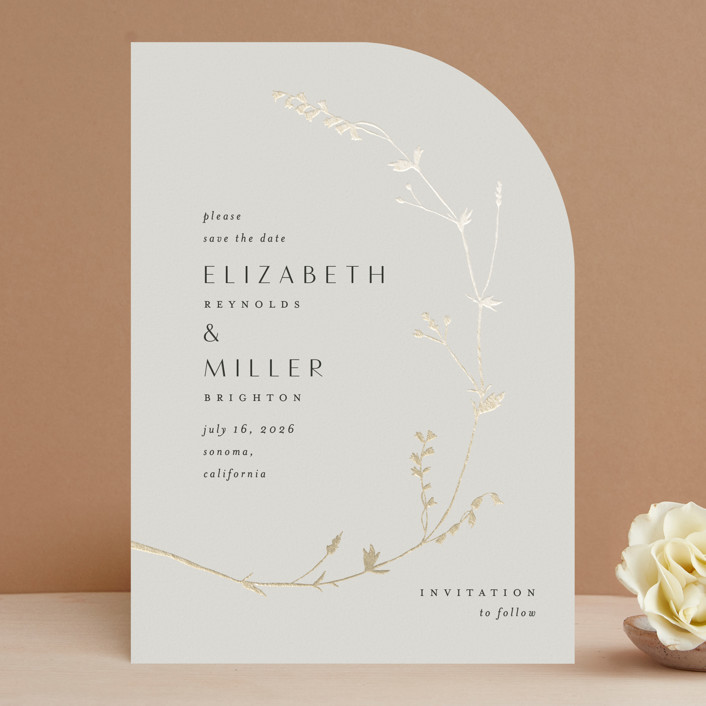 Designed by Amy Kross on Minted, these save-the-dates are hand-pressed on gold and silver foil with a matching foil envelope and bespoke wax seal. 
They boast a pretty floral design with an elegant font. 
You can also receive e-versions if you're short of time or prefer to email guests. 
Art Deco Letterpress Save-the-Date
Stand out from the crowd with this funky black-and-white design. 
This unique art deco style by Shannon Chen is printed on thick, soft and vintage Heidelberg presses. 
Available from Minted, it comes in a one-color or two-color style, with free samples available on request.
Our Paradise
Just like the name suggests, this destination wedding save-the-date is a lovely choice with tropical designs and plenty of room for personal touches. 
Make it extra special with an engagement photo or QR code, directing guests to your wedding website. 
Available at Minted, it also comes in various colors including fern, sapphire or grass. 
You can also choose from Signature, Recycled or Pearlescent paper. 
Foil Pressed Petite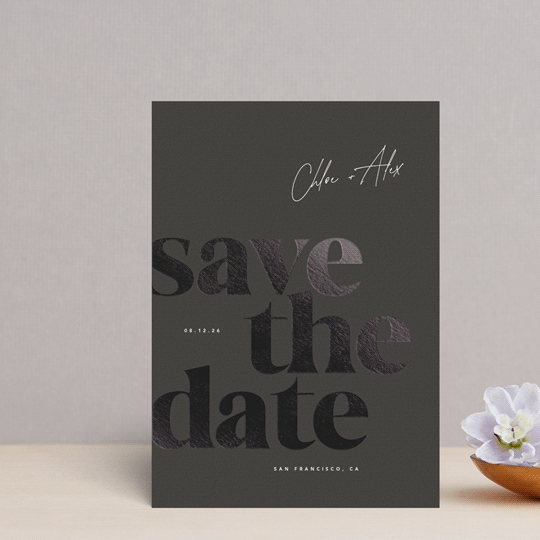 New for Minted, this petite save-the-date by Eric Clegg is smaller than a standard card, which adds to its charm. 
It boasts a neutral color theme with various options to suit all preferences. 
If you're looking for something simple and trendy, you won't be disappointed. 
Come Fly with Us Magnets
There's nothing quite like announcing a destination wedding with a boarding pass-themed save-the-date. 
Printed onto magnetic paper, your guests can stick it straight onto their fridge so there are no chances of forgetting about it. 
Available from Minted, it can be adapted to suit your needs with plenty of color options. 
It even includes a 'Come fly with us' envelope stamp for a unique finishing touch. 
Simple Seashell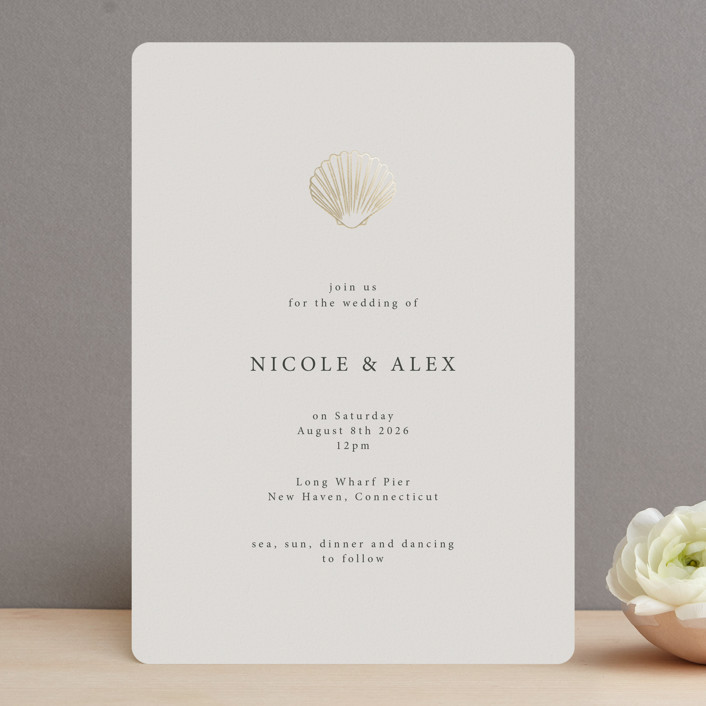 Great for beach weddings, the Simple Seashell is a straightforward design with a sense of elegance. 
Whatever theme you're going for, there is bound to be a color to match. 
This design comes with a range of options, from a mist or coral color to a glittery gold foil.
Gilded Palm
The Gilded Palm is a sophisticated save-the-date in Ash, designed by Melinda Denison. 
Choose from a Classic (5″ x7″) or Petite (4.25″ x 7″) style. 
While there are no alternative color options, the Ash color is a perfect choice for large destination weddings or small.
Tidal Stripe
Katharine Watson brings you this sea-themed save-the-date, great for beachfront weddings. 
If you're getting married by sea, it ties in nicely with your theme and tells guests exactly when and where they need to be. 
Seaside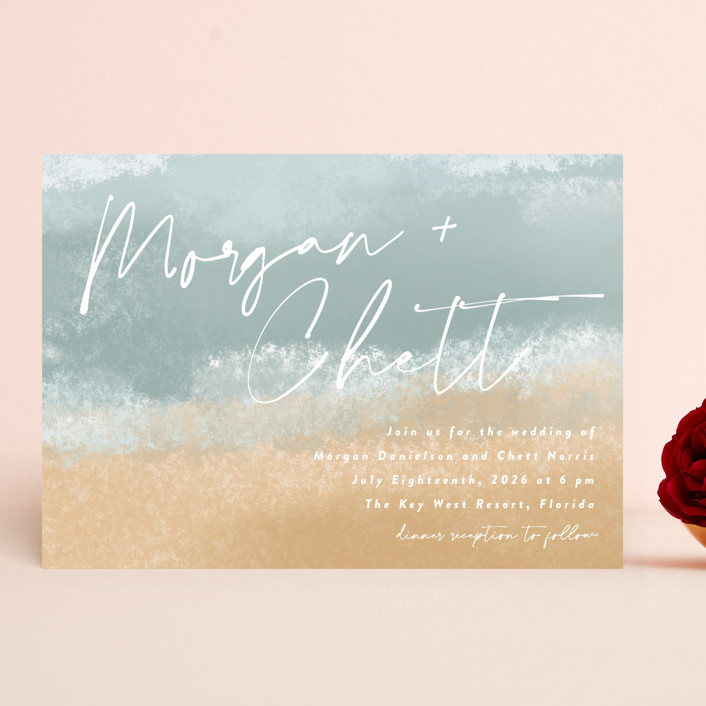 For art enthusiasts, the Seaside save-the-date by Rebecca Durflinger features a beautiful painting of sand and sea to remind guests of where they'll be heading. 
This is a popular choice for destination weddings and comes in five paper options and shapes, including three different types of recycled paper. 
To keep the theme consistent across your wedding, Rebecca also offers RSVP cards, reception cards and more. 
The Palm
With seven vibrant colors, these save-the-dates are a beautiful choice for romantic island weddings. 
With a tropical palm tree design and plenty of space for text, these fun save-the-dates are a solid choice for couples looking to get hitched overseas. 
Designed by Pixel and Hank, there are also RSVP cards, direction cards, and menu cards, all in the same theme. 
Moon Lagoon online save-the-dates
If time is catching up on you or you simply want to make more sustainable choices, then Moon Lagoon save-the-dates are amazing. 
This paperless option saves heaps of time and lets you send them out almost immediately. 
Paperless Post allows you to customize your own save-the-dates using this fun vacation-themed design. 
Piedmont
Another paperless option is this artistic save-the-date by Paperless Post.
With an ocean-themed design, it will appear straight into your guests' inbox. 
You won't have to worry about getting anyone's addresses together, and you'll save money on postage. 
Aisle Seats
This quirky save-the-date is designed for destination weddings with a humorous "save the date and get your ticket" line. 
The names, dates, and destination are fully customizable and take just minutes to prepare. 
As the name suggests, it is a subtle reminder for your guests to book their flights. 
Remember, this is a paperless option, so guests will receive it via email. 
Recap: Our complete guide on your destination wedding save the dates
If you're looking for destination wedding save-the-dates, there are plenty of options, from classy and classic to quirky and fun, from neutral to colorful, From travel-themed to traditional.
Unlike domestic weddings, your guests will need to organize flights, accommodation, visas, and more. 
The more time you give, the more likely they are to attend. If you think you'll have a few dropouts, try the A/B list to ensure you have a backup. 
So, what are you waiting for? 
Need help planning? 
Our experienced wedding planners at Destination Weddings by Vacationeeze are with you every step of the way.
With decades of experience planning hundreds of weddings, our team understands what couples are looking for and how to navigate working with the resorts. 
Our dedicated team will work with all your friends and family so you can focus on planning your dream wedding.
Ready to start planning your big day?
Call us at 215-454-2070 or get in touch with us here. 
Related Posts