When you're choosing your resort for your destination wedding you probably scroll Instagram and YouTube looking at pictures, videos and reviews of various resorts. Maybe you fall in love with a resort in Costa Rica or Cabo. The challenge is that the distance your destination wedding resort is from the airport matters more than you think. 
Here's why.
Your guests are likely traveling from various cities to your destination wedding. They're spending a few hours on the plane, they wait in the line at customs and then for their bags and then they walk out into the warm, sunny air in Cancun and realize they have a two hour drive. 
It's likely your loved ones are only coming to Mexico for 4-5 days and they just spent their whole first day traveling. Sure, a margarita may help them forget, but thinking about the distance from the airport is an underrated factor that can help you in narrowing down what resort you pick for your destination wedding. 
In this article, our goal is to share a list of a few resorts based on their distance from the airport. Sharing the potentially obvious caveat that the times listed are all estimates and depend on traffic at any given time. For example, rush hour through the Cancun hotel zone is a real thing and there's often construction on the main road as you head south from the airport which can close entire lanes, slowing down your trip. 
Resorts within 15 minutes to Cancun airport
These three resorts are the closest to the Cancun airport for your destination wedding and all are from Palace Resorts. 
Resorts within 30 minutes to Cancun airport
Perhaps some of our most popular destination wedding resorts are about 30 minutes north and south of Cancun airport. 
Resorts within 1 hour to Cancun airport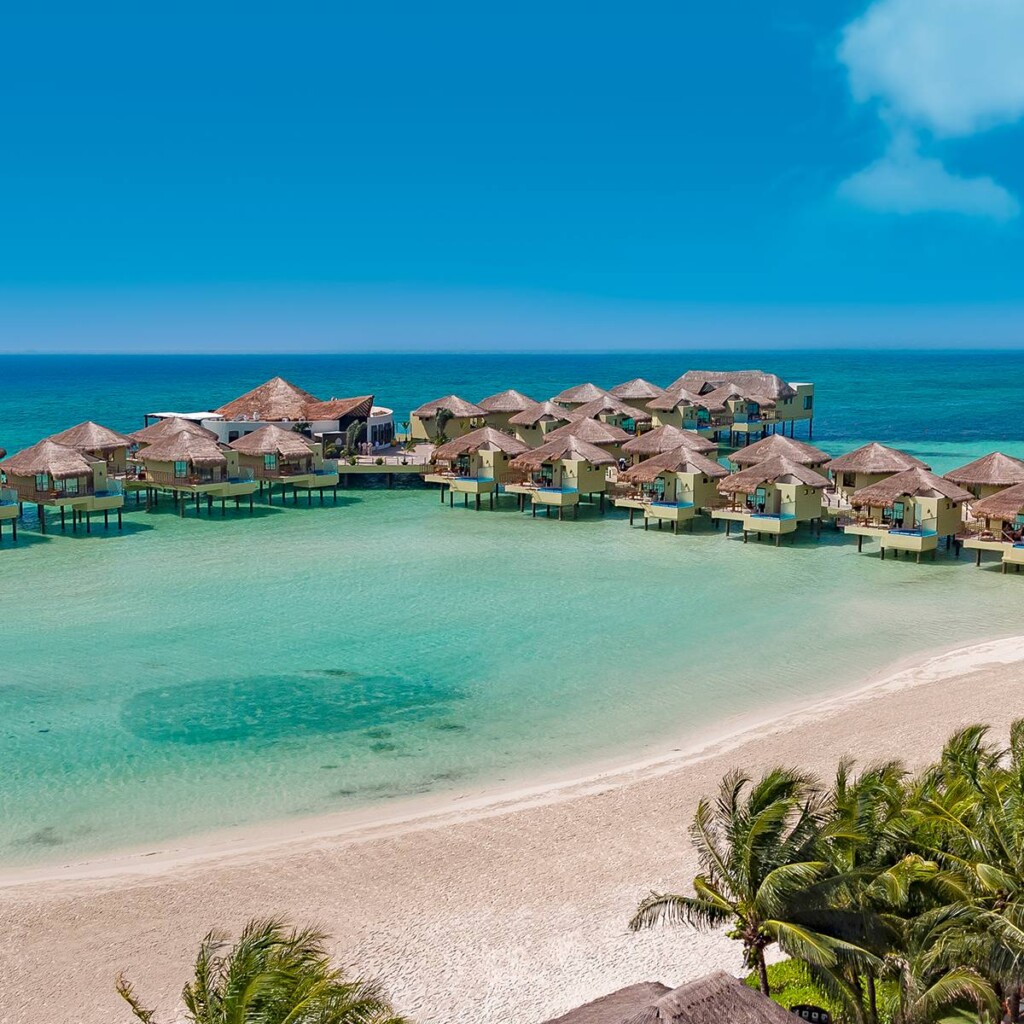 As you'll see there are a variety of resorts within an hour from the Cancun airport that would make a picturesque venue for your destination wedding. You can head north through the Cancun Hotel Zone until you reach Playa Mujeres. Alternatively, you can head south toward Riviera Maya and Playa Del Carmen where you'll find one of the best stretches of beach and ocean on Maroma Beach.
Resorts greater than 1 hour to Cancun airport
You'll see from the list above you have ample venues within one hour of Cancun airport for your destination wedding. Some of our clients feel strongly about a particular resort or destination and that's perfectly fine, especially if they know their guests are mostly attending for 5+ days so the longer drive won't be as big of a factor. Here are a few resorts that are over one hour from the airport but can be a beautiful venue for your event.
And if you're looking for something even more exotic (and adventurous!) maybe Cozumel Palace, where you'll drive about an hour and then take the ferry to the small island will be perfect for you. Or perhaps Margaritaville St. Somewhere is for you on Holbox. After you touchdown in Cancun, you'll hop on a small plane to Holbox – a nearly untouched island where you'll pair adventure and relaxation at this 37-suite resort perfect for an intimate resort buyout wedding. 
Final thoughts: Why the distance from the airport to your destination wedding resort is a bigger deal than you originally thought
Certainly distance from the airport shouldn't be the deciding factor of where you want to host your wedding. As you're considering your budget for the rooms, the events, the vibe, and a number of other characteristics we recommend you work with a destination wedding planner to confirm the resort you're falling in love with won't send your loved ones on a wild road trip two hours away.