Adults Only
Enjoy an estate-like atmosphere amidst tropical gardens in beautiful Puerto Vallarta, Mexico. Casa Velas is situated along the fairways of the Marina Vallarta Golf Club, just seconds from the beach and minutes from Puerto Vallarta International Airport. This spectacular resort is also within walking distance of Puerto Vallarta's sophisticated 500-slip marina and 15 minutes from the charming city center with its famous mile-long boardwalk, El Malecon.
Restaurants, Bars, & Lounges
The culinary experience is an integral part of Casa Velas, where local flavor and culture blend in delicious harmony. Enjoy a beachfront location with vast bay views and Asian-inspired dishes at our Ocean Club or creative gourmet cuisine in an elegant dining space at Emiliano's, our Four Diamond rated restaurant. Innovative fare that highlights the unique and exotic flavors of our homeland is our specialty, and the use of the freshest regional ingredients is of utmost importance. A variety of refreshing cocktails at our Ocean Club and pool lounges, deliciously healthy options on all of our menus, and an extensive 24-hour in-suite dining menu are just part of our gourmet services.
Gourmet Cuisine in Puerto Vallarta-Emiliano
A casually elegant restaurant, Emiliano, features gourmet Mexican cuisine served in an intimate, relaxed setting. Choose indoor dining or a table on a romantic outdoor terrace surrounded by koi ponds. This restaurant offers a diverse menu with a fusion of local flavor and spice, complemented by impeccable service. Enjoy delicious menu options for breakfast, lunch and dinner; whether you desire fine dining or casual meals, Emiliano's celebrated chefs prepare the freshest foods with distinctive style.
Restaurant with an Amazing View – Beach Club
This private Ocean Club creates the beachside experience that dreams are made of in Puerto Vallarta. An exclusive retreat on the ocean's edge with crystal-clear swimming pool, lounge areas and cabanas, the Ocean Club also serves a refreshing menu of sophisticated Asian-inspired cuisine and spirited cocktails. Relax on our private beach and lounge to the sound of gentle waves. Enjoy beachfront dining on our charming covered terrace and savor beautiful views of the Pacific Ocean. In the evenings the Ocean Club becomes the perfect place for a romantic sunset dinner.
A Poolside Bar – Aqua Bar
Swim up to our festive Puerto Vallarta pool and beach bar, where you can soak up the sun and sip refreshing tropical drinks. Ask for a recommendation or request your favorite- their bartenders are happy to show you some ofthe local creations or create a signature mix in your honor.
Resort Amenities
Allow this resort to be your refuge for relaxation and pleasure as you dip into their crystal-clear swimming pool surrounded by swaying palms and chic lounge areas. Relax with a tropical beverage at their private Ocean Club, enjoy the view of their pristine beach and order from an inspired menu of Asian delights.
Their state-of-the-art fitness center is fully equipped to make sure you never miss a workout, along with some yoga and fitness classes in paradise offering a great alternative to your regular routine. Golf is a way of life  at Casa Velas, and whenever the mood strikes you need to look no further than out your window to see the rolling greens available for play any time.
World-Class Luxury Spa ($)
Jewelry rental service ($)
Airport Transportation ($)
Golf Course
Hot Tub ($)
Boutique ($)
Parking Lot & Valet Parking
Premium Brand Liquors and Wines
Personal Concierge & Tour Service
Beauty Salon ($)
Air Conditioning
Swim-Up Aqua Bar
Basic-Speed Wi-Fi
Medical Services ($)
Casa Velas Lobby Bar
Pillow Menu Available
Swimming Pool & Garden
World Class Golf in Puerto Vallarta
Luxury Suites with Upscale Amenities
Professionally Equipped Fitness Center
Golf Privileges at Marina Vallarta Golf Club ($)
Complimentary Shuttle to/from Casa Velas Ocean Club
Private Ocean Club With Pool, Jacuzzi, Beach & Restaurant
Unlimited Use of Hydrotherapy Facility at World-Class Spa ($)
Emiliano Gourmet Cuisine Restaurant – Breakfast, Lunch & Dinner
24-Hour In-Suite Dining Puerto Vallarta All-Inclusive Hotel Amenities
$ – Additional cost
Weddings at Velas
---
Customized wedding collections for one of a kind events
Personal call of appointment and our certified wedding planners
Onsite wedding planners certified in south Asian, LGBT and Jewish ceremonies 
Your wedding is the main event – they only allow one event per day
Bridal preparation suite available for a day of pampering before the big event ($)
Terms and Conditions apply, please check with your Certified Destination Wedding Specialist for more information.
Ceremony Locations
Ballroom
This location can accommodate maximum 350 people.
VIEW DETAILS
Outstanding for

Anniversaries

Board Meetings

Special Celebrations
Weddings
Beach Club
This location can accommodate maximum 200 people.
VIEW DETAILS
Outstanding for

Anniversaries

Board Meetings

Special Celebrations
Weddings
Botanical Garden
This location can accommodate maximum 200 people.
VIEW DETAILS
Outstanding for

Anniversaries

Board Meetings

Special Celebrations
Weddings
Pool Terrace
This location can accommodate maximum 200 people.
VIEW DETAILS
Outstanding for

Anniversaries

Board Meetings

Special Celebrations
Weddings
Golf Garden
This location can accommodate maximum 120 people.
VIEW DETAILS
Outstanding for

Anniversaries

Board Meetings

Special Celebrations
Weddings
Standard Room Amenities
---
Vanity Mirror
Safety deposit box
Iron & Ironing Board
Daily cleaning service
Down comforter & pillows
Bathrobe & resting sandals
Scale
Hairdryer
Work desk
Pillow menu
Coffee Maker
Suite service, all inclusive
TV w/digital cable service
L' Occitane bathroom amenities
Alarm-radio clock or iPod deck
Complimentary wireless internet
Mini bar & snacks supplied daily
Beach bag for in house personal use
Phones w/direct line and voicemail ($)
Master Suite
---
An option with view of the spectacular gardens and partial view of the Marina Vallarta golf course, and an array of thoughtful amenities at your disposal, each placed in the suite with your enjoyment in mind.
Maximum occupancy: 3 adults
Size: 43m2 (463 sq ft)
King size bed, or two double beds
Master Suite with Jacuzzi
---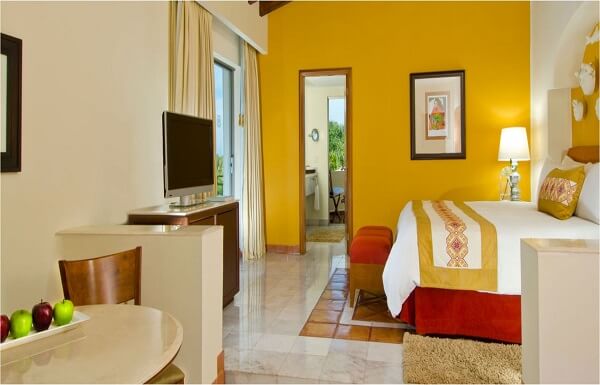 The elegant Master Suite with Jacuzzi are an oasis of comfort and luxury. Your senses are captivated by tasteful Mexican décor. These beautiful suites offer one King or two full size beds, with view of the gardens or the golf course, a marble Jacuzzi in the bathroom, as well as all the amenities of great luxury.
 
Maximum occupancy: 3 adults
One King-size bed or two double beds
Size: 57 m2 (614 sq ft)
Jacuzzi in the bathroom
Grand Class Suite
---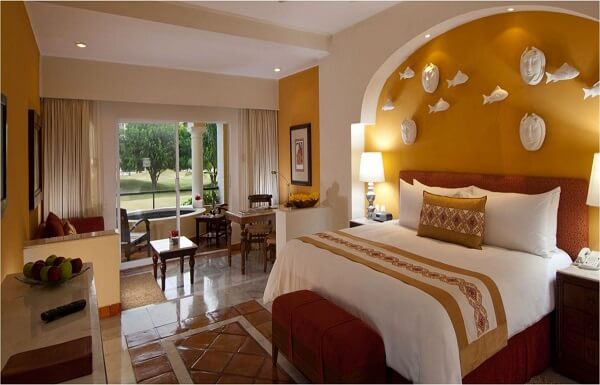 The best in design and ambiance await you in their luxurious Grand Class Suites. Featuring an immersion pool and elegant Italian marble bathroom, these suites offer a restful experience with a range of luxury amenities. Enjoy the tranquility of your surroundings and experience true luxury in this elegant space.
Maximum occupancy: 3 guests
Size: 57m2 (614 sq ft)
Private immersion pool
One King size bed or two double beds
Grand Class Plus
---
The interior colors and private ambiance found in this suite invoke romance and relaxation. This beautiful suite has a King size bed , luxury amenities, beautiful views of the golf course or the gardens.
Maximum occupancy: 3 adults
Size: 77.10m2 (830 sq ft)
Dining table for four
One King-size bed 
With or without Jacuzzi in the bathroom
Private immersion pool in the garden
Outdoor dining table for two on the terrace.
Wellness Suite
---
These exclusive suites are designed to provide comfort, intimacy, rest and a wonderfully pleasant experience. Each of the Wellness Suites are distributed over two floors. The first floor consists of a living room with a sofa and center table, dining room for four and a full bathroom, as well as a private terrace equipped with a garden dining room set and views of the golf course or gardens. On the second floor, a bedroom with a King-size bed awaits you, along with an ample bathroom with Jacuzzi, and a private balcony with an incredible view.
Manos que Curan Soap Bars
Maximum occupancy: 3 adults
Size: 125.40 m2 (1,350 sq ft)
Exercise Kit
Nikken Pillow
King-size bed
Massage Table
Two-level Suite
Nikken Comforter
Vitamin C Shower
Nikken Kenko Light
Wellness Concierge
Nutrition and Fitness Consultation
Interior dining table set for four
Recumbent Lifecycle® Exercise Bike
Private immersion pool in the garden
Alchimia Apothecary Aromatherapy Kit
A bathroom with Jacuzzi and a half bathroom
Private terrace with a spectacular view and dining table.
Governor Suite
---
Located on the 4th floor, the Governor Suite is unique in space and comfort, with one of the best views of the property, over the golf course and the hotel pool. The living room has beautiful decor, with a sofa for two, and a table with two chairs. Guests enjoy a luxurious King- size bed, and an Italian marble bathroom. The spacious terrace with intimate private pool provides an exquisite touch, making this Suite one of the best available within the resort.
Size: 75 m2 (807 sq ft)
One King-size bed
Private immersion pool
Spacious private terrace
Maximum occupancy: 3 adults
Amenities and activities are also a highlight, from Yoga Lessons in the morning, to Tequila Tastings, Nespresso Coffee machines in-suite, pillow menu, 24 hour suite service, L'Occitane bath amenities, a 4 Diamond International Restaurant; not to mention a handbag bar for clients to take designer purses on loan for the evening (at no additional cost). Guest of Casa Velas have unlimited golf rounds included a 3 signature golf courses (a total of 54 signature holes), as well as complimentary access to Velas Vallarta sister property, and a dinner at any specialty restaurant in the Grand Velas Riviera Nayarit (transportation included).
A visit to Casa Velas would not be complete without a visit to the SPA Casa Velas, a world-class spa and health retreat in the Mexican Pacific. They offer you the benefits of regionally and internationally- inspired spa treatments to revitalize and relax your body and soul. Experience unique massages, under the care of professional Spa therapists. Regular massage reduces stress and tension, relieves physical and mental fatigue and promotes relaxation with greater body awareness. Their signature treatment uses herbs and seeds harvested in their own botanical garden and made into a warm compress to soothe away stress and fatigue. Experience the hydrotherapy circuit and choose from indoor spa treatment cabins or outdoor treatment areas; all treatments and body therapies are offered in a tranquil, tropical atmosphere.
Vallarta Nayarit offers beautiful settings for playing golf and is a favorite destination among fans of this exciting sport. Casa Velas is located just minutes from the best courses in the area: the Marina Vallarta course designed by Joe Finger and the Vista Vallarta courses designed by Jack Nicklaus and Tom Weiskopf. It is the ideal escape for playing endless rounds with friends and family. As a guest of Casa Velas you'll enjoy playing golf on your choice of world-class courses, along with gourmet cuisine and a wide range of Spa treatments.